Project Share
Project Share's goal is to work in concert with our school personnel who have identified students who require basic-need items.
Project Share Chair:
Diane Gershkowitz
---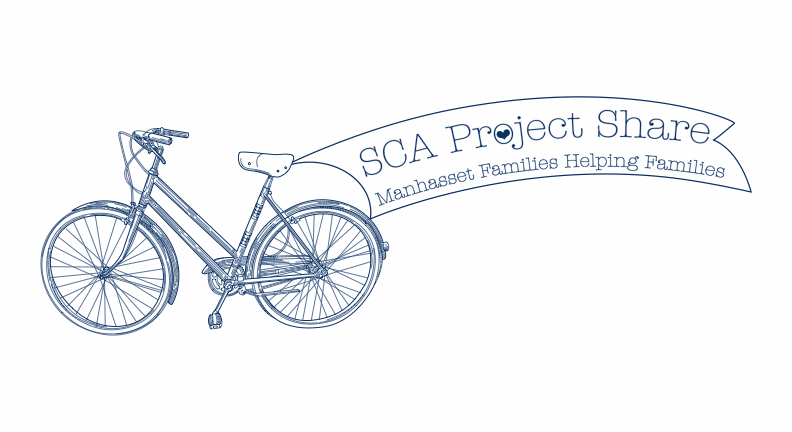 SCA Project Share
More than two years ago, a teacher was looking for a donation of a used bicycle for a middle school student. When asked why a bike was needed in January, it became clear that the family needed much more than a bicycle - donations of gift cards, clothing and food followed. The SCA Project Share Committee was formed to help economically-challenged students in our schools with basic need items. To assist with this important committee and to learn of specific needs, contact Project Share for more information.
Munsey Park Women's Club Philanthropic Fun Run Benefiting SCA's Project Share!
THANK YOU! to the Munsey Park Women's Club and all the families and businesses who supported the FUN RUN in June. Kids ran to help other kids in need and as a result, Project Share was able to provide each child in need in our schools with a new pair of sneakers and school supplies just in time for back to school. A very special thank you to all the volunteers who worked at the Fun Run, particularly chairpersons, Lisa Avena and Amy Hill.
SCA Project Share - Back to School Thank You!
Project Share thanks all those who delivered school supplies generously donated in time for "back to school". Parents, teens, and teachers all joined in. We owe particular thanks to Raindew Family Center for their continued support, and for joining us on the deliveries!

SCA Project Share - Thank You to the Flower Hill and Plandome Heights Women's Clubs
In June, Project Share was welcomed into the home of Nancy Paganucci for a fund-raising luncheon. It was the perfect setting to discuss Project Share, especially since our charity is home based and from the heart. It felt like the perfect setting to be speaking at Nancy's home. We will be using the proceeds from the luncheon to establish a food "kitty". Also, thank you to the Plandome Heights Women's Club who also provided funding through their Luncheon to help us bring a smile to those in our classrooms who can use assistance.
SCA Project Share – Past Projects!
Due to the generosity of our donors and our volunteers we have been able to provide the following:
Individually packed new knapsacks with required school supplies by grade for each child in need.
Brand new sneakers for each child in need at the start of the school year.

Through our Coat Drive …350 freshly cleaned coats.

Holiday Concert clothing for students who need the required black bottom and white top at the   concerts to perform

Gift cards to local shop which allow our students to have pizza, snacks etc. with their peers.

A room makeover for 2 youngsters in need of mattresses and bedding.

"Dinners" to the Middle School Bridge Program which allows students staying after school to enjoy   a healthy meal and this provides incentive to stay for after school help

Fulfill all the wish lists on the Holiday Gift-Giving Program

Healthy snacks to students in the elementary schools

Heaters to a family living in a basement.

Thanksgiving dinner

Clothing year round for students in need of specific items.

Gift cards for food, clothing, and shoes.     

SCA Fair bracelets

Frolic dresses, prom dresses, and tuxedo rentals for students requiring assistance.

College bound students with gift cards to Bed Bath & Beyond.

Gift cards to Barnes & Noble and Michael's as incentives for the students in the Mentoring Program.

Clothing, furniture and baby items for a newborn child.

Desk(s) for children to use for homework.
And of course we donated bicycles!
Project Share Bylaw Addendum Approved, Attached Bylaw Addendum>>
The Project Share Committee Bylaw Addendum was approved at the General Membership meeting held on Wednesday, May 25, 2011. After completing several wonderful projects and meeting the stated purpose of their committee, Project Share has achieved SCA Executive Committee status. Congratulations to Chair Diane Gershkowitz and her team of dedicated committee volunteers! Project Share has already enhanced the lives of so many in our community and we look for more wonderful things from them in the future.