Project Share
Project Share's goal is to work in concert with our school personnel who have identified students who require basic-need items.
Project Share Chair:
Heidi Franchetti (HS) Paula Chiarucci (MS)
Teri Ann Quinlan (MP) Priyanka Puri (SR)

---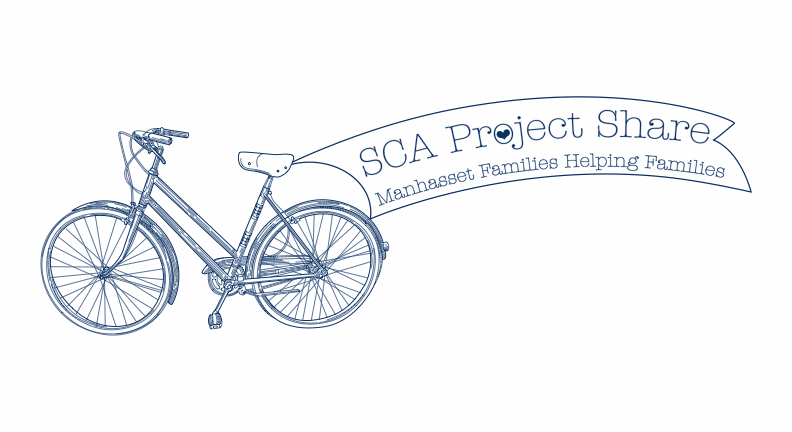 SCA Project Share
More than four years ago, a teacher was looking for a donation of a used bicycle for a middle school student. When asked why a bike was needed in January, it became clear that the family needed much more than a bicycle - donations of gift cards, clothing and food followed. The SCA Project Share Committee was formed to help economically-challenged students in our schools with basic need items.
To assist with this important committee and to learn of specific needs, contact Project Share for more information.
RECENT HIGHLIGHTS:
Annual Holiday Gift Giving Program
Please consider participating in this wonderful program, which fulfilled over 150 'Wish Lists' for children in need within the Manhasset Public Schools last year. Completed Donor Forms are due on November 13th. Your kindness will help make a difference and can brighten a child's holiday this year.
SCA Project Share - King Kullen Gift Card Appeal for Thanksgiving
Project Share is seeking King Kullen Gift Cards in any dollar amount to ensure that families in need have the makings for a Thanksgiving meal. All donations go to families in our schools. Please mail your donations to: Amy Hill at 175 Whistler Road. Thank you!! For more info please contact mscaprojectshare@gmail.com. The Manhasset SCA is a  501(c)(3) charitable organization.
Raindew Family Centers and Pharmacy Donate School Supplies
In late August Project Share received a very special surprise from Raindew Family Centers and Pharmacy! 
Project Share has worked with Raindew over the last several years to purchase back-to-school supplies for children in need.   Raindew has been extremely generous each year by providing a significant discount on the purchase.  This year however, Raindew exceeded expectations and delighted many by donating 100% of the school supplies ordered by Project Share.   In addition, Raindew individually packaged the school supplies by grade level and school making the delivery of the supplies seamless.
PAST PROJECTS:
Due to the generosity of our donors and our volunteers we have been able to provide the following:
Through our Coat Drive …350 freshly cleaned coats
Clothing year round for students in need of specific items
Gift cards for food and shoes
Fulfill all the wish lists on the Holiday Gift-Giving Program
Holiday Concert clothing for students who need the required black bottom and white top in order to perform at the concert
Gift cards to local shops which allow our students to have pizza, snacks etc. with their peers
 "Dinners" to the Middle School Bridge Program which allows students staying after school to enjoy a healthy meal and this provides incentive to stay for after school help
Healthy snacks to students in the elementary schools
Thanksgiving dinners
Halloween Costumes
SCA Fair bracelets
Frolic dresses, prom dresses, and tuxedo rentals for students requiring assistance
Gift cards to Barnes and Noble for summer reading
Gift cards to Bed Bath & Beyond for College bound students
Gift cards to Barnes & Noble and Michael's as incentives for the students in the Mentoring Program.
Clothing, furniture and baby items for a newborn child.
Facilitate the donation and delivery of furniture
A room "makeover" for youngsters in need of mattresses and bedding.
Desks and lamps for children to use for homework
Heaters for a family living in a basement
And of course we have donated bicycles!